April 2015, Ashgrove: Max Lian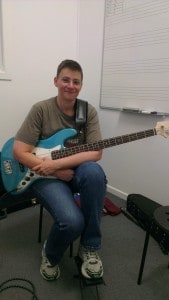 Axe(s): There's a few! My Squier Affinity J Bass gets a lot of love. I also have a Fender Blacktop Strat, and a Travel Guitar Speedster.
Amp and Effects: VOX VT20+ and Fender Rumble 40. I also have a little Roland Cube that's very portable.
Favourite Styles: I'm into most anything except hip-hop, rap, and death metal.
Influences: It's no secret that I love Melissa Etheridge's music. I'm also a big fan of The Doobie Brothers, Creed, The Eagles, Indigo Girls, Collective Soul, Gary Moore, Jamiroquai, John Mellencamp, Lenny Kravitz, Meshell Ndegéocello.. I could go on and on. Is it OK to admit I like Nickelback? Don't hate me!
Favourite Quote: "To accomplish great things, we must not only act, but also dream; not only plan, but also believe" – Anatole France
Career Highlights: I can't say there are any highlights. I just enjoy being in the moment!
What do you love about The Guitar Gym? I like that the teachers are so easy-going, and that they don't heap pressure on me to practice if I don't feel like it. I'm never going to be a rock star, and I don't want to be. I just want to have fun playing music! My teachers help me play the songs I want to play without making it a chore. Classes are always light-hearted and fun.