August 2015, Indooroopilly: Samantha Dowling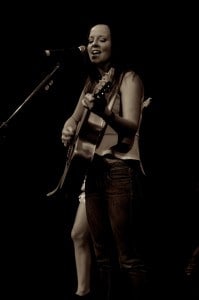 Axe(s): Fender FSR Stratocaster (Rustic Ash), Maton Performer (EBG808CL)
Amp and Effects:  Fender Supersonic 22 Amp
Favourite Styles:
– Acoustic Fingerstyle
– 90's Rock
– R&B
– Old stuff I grew up with…
Influences: Lorde, Jewel, The Corrs, Ed Sheeran, Passenger, Paramore, Foo Fighters, Paul Simon, Florence and the Machine, Sting, Jim Croce, Ingrid Michaelson, Lana Del Rey…. really it's a never-ending list!
Favourite Quote: "The beautiful thing about learning is nobody can take it away from you." – B.B. King
Career Highlights:
– Forming a band with other students from Guitar Gym in 2014 (shout out to Chris Deere, Brian Pass and Joey Weber!).
– Guitar Gym concerts 2013 & 2014 (so much fun!).
– Transitioning from just playing covers to writing original songs.
What do you love about The Guitar Gym?:  Until I started at The Guitar Gym I'd made virtually no progress learning guitar (despite having lessons elsewhere and trying to teach myself using YouTube!).
As soon as I had my first lesson with Darren I knew I'd found the right place. Darren knows how to keep me interested/motivated to play while still ensuring I learn music theory as I go! Above all else, it is the high standard of teachers at The Guitar Gym that I value the most.
I also really enjoy the work-shops – especially the song-writing ones 🙂