July 2015, Indooroopilly: JT Wenham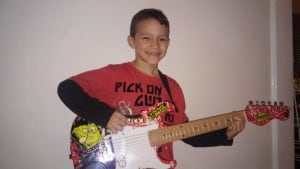 Axe(s): Spongebob 3/4
Amp and Effects:
Favourite Styles: Rock
Influences: Hendrix, Guns 'N Roses / Slash, Wolfmother, Jack Johnson, Hilltop Hoods, Living Colour, Led Zeppelin, Cloud Control, Stone Temple Pilots, Everything Everything, Gin Wigmore, The Tea Party, Bliss N Eso, Black Eyed Peas
Favourite Quote: Pick on Guitars, Not People!
Career Highlights: Youngest person to fly in a vertical wind tunnel in Australia, Youngest person to do Snuba in Hawaii, Awesome school report last term, Inspired Minecraft Architect, Snorkelling with a Loggerhead Turtle
What do you love about The Guitar Gym?:  My teacher, Macquarie.