June 2015, Ashgrove: Stephen Allam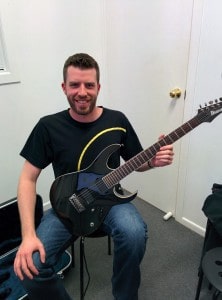 Axe(s): Ibanez RG Iron Label 6 String
Amp and Effects: Marshall 30W
Favourite Styles: Rock, Hard Rock, Metal
Influences: There are way too many influences to list but a few of the top ones would be Stone Sour, Slipknot, Trivium, Killswitch Engage, Machine Head, Pantera, Sevendust, Nonpoint, Nirvana, and Alice In Chains.
Favourite Quote: Do what you do and mean it every second of the day. If you don't, you're living someone else's life. – Corey Taylor
Career Highlights: It's only been just over a year since I picked up a guitar for the first time at my free introductory lesson but I honestly think the biggest highlight has been actually realising how talented all the guitar players in my favourite bands are and gaining even more appreciation for music in general.
What do you love about The Guitar Gym?:  I like learning to play the guitar with Matt's help. We're into the same types of music and he really helps to make it easy to learn new skills, riffs, and songs.