May 2015, Ashgrove: Ian Coulton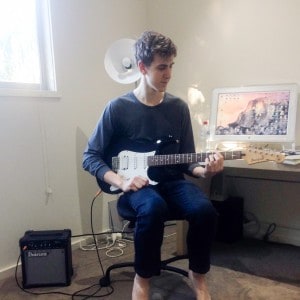 Axe(s): Yamaha Pacifica 012, Bolero g703 (nylon string)
Amp and Effects: Ibanez IBZ10G with Overdrive effect
Favourite Styles: Jazz, Blues, Post-punk, Shoegaze, all sorts of lo-fi stuff, Pop-punk, Alternative rock, Post-rock.
Influences: Bossanova music, Blues music, indie music. Bands/Artists like Beck, Jeff Magnum, Iceage, Andrew Jackson Jihad and Cap'n Jazz come to mind as influences when playing nothing in particular in my spare time.
Favourite Quote: "It's good enough for Jazz" – Lucas (guitar coach) on guitar tuning
Career Highlights: Playing on stage at the Christmas concert/showcase last year (2014) and freaking out internally. Despite almost completely freezing up and not playing to the best of my ability on stage with the two other performers, after the fact everybody was very friendly.  On top of being one of the nervous experiences I've had, it was also one of the most exciting, satisfying and relieving experiences I've ever had.
What do you love about The Guitar Gym?:  Everybody involved from fellow students in the waiting room to the guitar instructors are really friendly and like-minded.  That in the space of a single lesson your learning can be driven forward in many different directions in such a free form manner. From starting to learn a song to then getting help on a technique to grasping concepts of music theory.  A lot of this I've found to be due to the fact that the coaches are very open to ideas and queries that I've had during a lesson and are able to pick these up, interpret them and run with it.  It's that aspect I believe that has helped me so far with becoming comfortable and confident learning the guitar and approaching new ideas.  I also love taking lessons with a partner, it has opened up a wide variety of learning experiences and makes the lesson quite dynamic.