September 2015, Ashgrove: Oliver Duffy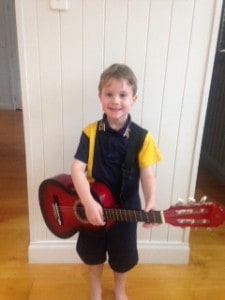 Axe(s): 1/4″ Valencia
Amp and Effects: na
Favourite Styles: No favourite style as yet. Looking forward to playing Rip Tide one day soon.
Influences: Matt and Mr Thompson at my school. Both play the guitar and I think they are cool!
Favourite Quote: Rock On!
Career Highlights: Getting through my first Prep Cross Country. I ran 500m. A little bit boring but I came 7th.
What do you love about The Guitar Gym?:  I love Matt. We were both born in Emerald and are country boys. He is the best teacher and I love going to my lesson every week.