Maintaining Productive Guitar Practice Methods
Practice is something that holds a lot of preconceptions in the world of guitarists. One of these is that reaching a level of playing similar to one's favourite players requires practice of otherworldly proportions, day in and day out. It is something that every guitarist, at some point, associates with endless hours of sitting in their bedroom, playing the same exercise over and over again to no apparent avail. However, there are some factors hiding in plain sight to be considered that will almost certainly change the way you look at guitar practice and the outcome you see occurring as a result of it.
Key Factors
Consistency
One of the most important factors any aspiring musician can employ in their guitar practice is consistency. When it comes to practice, consistency is proven to utilise muscle memory. 15 minutes 3-5 times a week is far more effective than an hour on Saturday. By consistently providing your nervous system with activity, you are introducing a pattern. This allows it to become proficient and take the wheel in a sense. One example of repetition leading to muscle memory stimulation that comes naturally to basically everyone is holding a pen.
Holding a Pen
There's a reason our handwriting can be considered legible once we grasp how to hold a pen and the associated movements of the hand and wrist. Consider how you progressed from writing with your entire arm as a kid, to the much more natural movement now. This can be likened to first learning to strum. Initially, everybody strums with his or her entire arm in a very awkward, uncomfortable way. Once the muscle memory for this motion is introduced, it continues to become more effortless until it becomes second nature. This happens through the continuous repetition of the action. Hence why it is so much more favourable in terms of muscle memory to have your brain processing these movements on a regular basis. This is more effective than only being able to process the strumming (or handwriting) motion for a single 1-hour session a week. By opting to practice only once a week, you are preventing the nervous system from associating the movement as a regular occurrence of which it must accommodate, which will result in it taking far longer to become a fluid movement.
Patience
This factor is plain and simple. Every milestone in a guitar player's life takes time and dedication. Patience will be your best friend in the long run, and you will eventually get to a point where you notice that all of the little pieces and improvements have come together and made a huge difference in your playing.
All of your favourite guitarists are walking examples of the fact that maintaining consistency and patience pays off.
Practice Makes Permanent
It is worth noting that muscle memory comes into play regardless of great or poor technique. It's worth your while to take no shortcuts and ensure that your technique is as accurate as possible. Learning something the wrong way can be disruptive to the entire process of playing guitar, and can completely limit what you can do. So as soon as possible, assess the techniques and playing style you are employing, and check with your coach – they know how things should be. It can be something as little as ignoring a note in a phrase that isn't fretted properly, and as a result is affecting your speed. This may seem minute, but it will eventually become a habit if you practice that way enough.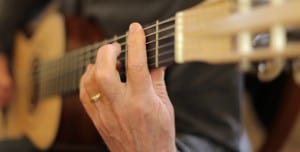 Mental Approach and Finding a Suitable Medium
Outlook
First and foremost, your outlook is the foundation which all of your achievements as a guitarist will be built upon.  It is important to set reasonable expectations on your limits, and chip away at them at a rate that challenges you, or reinforces a concept or technique that you are familiar with without leaving the impression that your guitar practice is a strenuous and unsatisfactory process. Through some basic trial and error, you will soon find a suitable level of time/effort that you can associate with productive practice that yields results.
When You Get Tired
It is important not to force yourself to practice if you are not making any progress with the exercise at that point in time. If the case truly is that you're just not feeling it, and as a result you are practising poorly, then you are certainly better off either;
– Working on a different exercise or task, or
– Leaving practice altogether and coming back after a short break when you are refreshed and not at risk of practising haphazardly.
This ties in with idea of practising correctly, to ensure that you are not creating permanent, unwanted habits in your playing.
Initially, playing guitar is and always will be something exciting. You wouldn't have begun playing were that not the case! But it can also be something that's very daunting at any stage. Whether it be trying to memorise the C major scale in the open position, or being introduced to modes and their harmonisations. Compare this to the idea of learning your favourite guitar tune. If it's something you've never confronted before, then it's something that can be hard to see yourself doing. But one thing that will always apply to learning and practising, is that if you effectively break the task down into sections, and work on it with consistency and an effective outlook, it will immediately become much more manageable and won't seem so far-fetched and out of reach. This will help increase your motivation in continuing to work on all of the songs, exercises, techniques and styles you choose to pursue, as there are few better feelings than watching the pieces that you've invested time and effort into come together.